A temporary bridge was removed this weekend at Steart Hill, Somerset on the A303 as part of National Highways' upgrade of the road. The bridge was used to minimise the impact of construction on motorists and residents, with its removal marking the end of the first major stage of construction on A303 Sparkford to Ilchester scheme. National Highways is working with delivery partners Galliford Try to construct the £135M scheme. It will promote economic growth and tackle a long-standing bottleneck, reducing journey times to the South West and improving traffic flows in that area at peak times and during peak seasons. Having been in place for 30 weeks, 900,000t of earth has been moved across the bridge. To allow the bridge to be removed safely, the A303 was closed from 10pm on Friday until 5am today.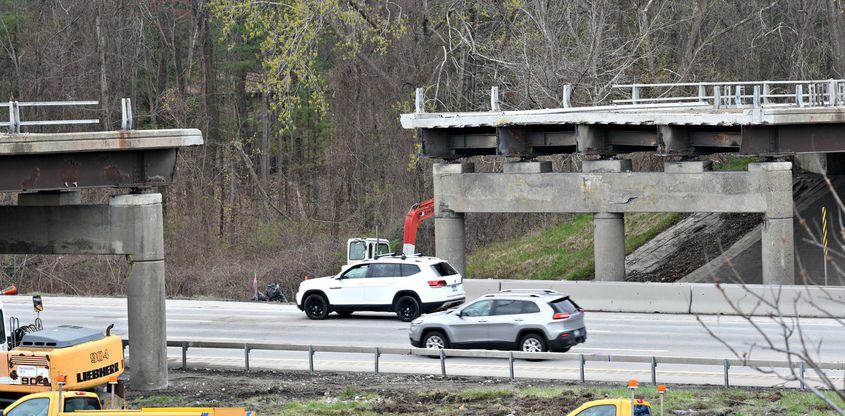 National Highways senior project Manager Elliot Hayes said.
"The removal of the temporary bridge marks a significant milestone for this major scheme, which is incredibly important for Somerset's future and vital to the A303/A358 corridor. It's exciting to see how work has progressed, with the major earthworks now completed with minimal disruption. You can now really start to see the scheme take shape and we are excited to continue pressing ahead to finalise this vital route. We will ensure motorists are fully informed of diversions and suggested routes via signing and media. We advise drivers to plan ahead and allow extra time for their journeys over the weekend. Galliford Try A303 Sparkford to Ilchester project director Chris Hill added: "We have made great progress on the scheme since starting a year ago – reaching the milestone of removing the bridge signifies this.
Having this Link Between The Two sides of the Scheme Was Vital in Moving the Earth Quickly and Efficiently, Without causing major Disruption.
The road scheme was given the green light by former transport secretary Grant Shapps last year despite the Planning Inspectorate recommending the scheme be declined a development consent order (DCO). In its examination report, the Planning Inspectorate urged Shapps to decline the DCO application on the grounds that the scheme would have "adverse effects" for local roads, would cut off local communities and was a risk to the natural and historical landscape (see below for Planning Inspectorate's full list of concerns). The Planning Inspectorate report concludes: "The benefits of the proposed development are not sufficient to overcome the disbenefits of the project. Having regard to all of the matters raised during the Examination, our conclusion is that the matters against making the DCO are not outweighed by the matters in its favour. We find that the case for the proposed development is not made out and recommend accordingly." The upgrade is scheduled to be open to traffic in spring 2024. Work was originally due to be carried out parallel to the A303 Stonehenge Tunnel project, which has run into planning delays and legal objections.