The embattled Twins Sails Bridge in Poole has been closed after one of its masts broke. One of the bridge's 55m-high masts broke during the bridge's opening on Monday. Bournemouth Christchurch and Poole Council said the bridge would remain closed while engineers investigated the cause of the damage and drew up a repair plan. A council spokesperson said: "During lifting operations on Monday morning, part of the mast on one side of the bridge broke. "We can confirm that our engineers have successfully removed the broken mast from the Twin Sails bridge. There are some further mechanical issues that need addressing before it can reopen and engineers are continuing to make progress. During this time the bridge remains closed to vehicles but is open for pedestrian access. "Poole Bridge is still in operation, maintaining vehicular access to Hamworthy. We will provide updates on Twin Sails when we can and residents should keep an eye on BCP Council social media pages for further information." The bridge was built by Hochtief and opened in 2012. It experienced a number of issues with road surfacing and the lifting mechanism during its first year of operation. A Freedom of Information request made by the Local Democracy Reporting Service to the former Poole Council in 2019 revealed that £1.3M was spent on keeping the bridge operational since it opened in 2012 – £600,000 more than was budgeted for that period.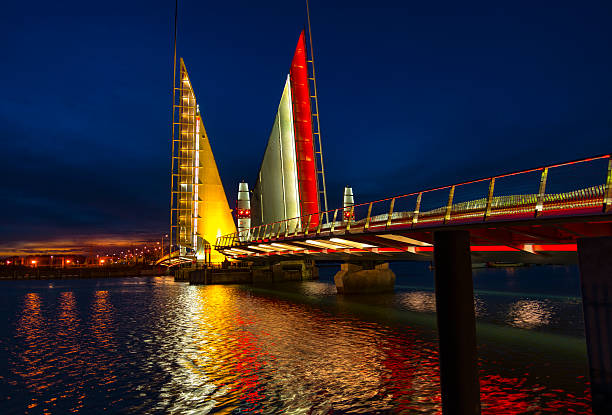 The Bridge Has Also Experienced issues With its Bearings.
Issues first emerged in November 2018 when the mechanism on the Hamworthy leaf was heard to be "making a grating sound" leading to the bridge being closed for a month. The damaged pin and bearing was replaced at the end of 2019 but further investigation revealed that the second cylinder also needed to undergo the same repairs, which were completed in 2021. There was also much criticism of the bridge during the planning stage which led to a review of the design and the road layout.